Welcome to the home of all things IATI!
Welcome to IATI Discuss. Use this forum to ask questions and share new ideas, events and projects about IATI as well as keeping up-to-date with useful announcements from our Technical Team, Secretariat and Governing Board. It's quick and easy to sign-up and start adding your valuable contributions to IATI's Community.
We have the following categories:
(The current category) This is where to post your questions, queries or requests for support from the IATI Community. Posts can be about a specific issues related to publishing or using data, or could be asking if there is a local IATI expert in your area who could provide some more in-depth support to your organisation.

This category is a place for suggestions and consultations around the IATI Standard itself. This includes ideas for new features, requests for new codes or codelists, or any other technical proposal. This is also where formal consultation on proposals to upgrade the Standard happen.

This category is for posts that relate to any event that may be of interest to the wider IATI community.

This category also relates to the annual meeting of IATI's Technical Advisory Group (TAG). It is the primary hub for all notifications, consultations, details, and discussions relating to upcoming meetings.

This category is home to consultations about IATI which aren't directly concerning the technical standard. Examples include: methodologies / best practices for using or evaluating IATI data, specifications for technical tools, etc.

The IATI Technical Team will post information here to let the IATI community know about IATI related issues, for example if we are scheduling maintenance on a tool or site that will impact on users.
If you want to edit your notification settings for any given category (or sub-category), go to its page and click on the small circle on the top right: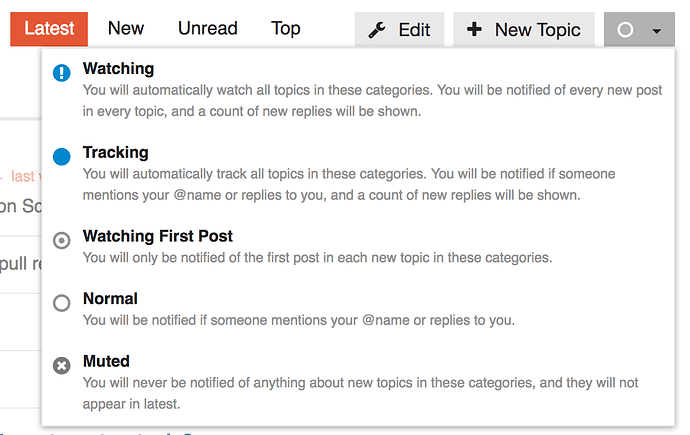 Looking for support?